Reach an engaged community of students, parents, and educators
Our partner network connects 31 million users with the content, tools, and services they need to teach and learn.
Partner with us
Remind composer integration
Help educators discover your content—right from Remind.
Share on Remind
A faster, easier way to deliver your content to students and parents.
More APIs and SDKs
Roster syncing, personalized messages, and automatic content distribution.
Improve distribution
Over 10 million teachers, students, and parents use Remind to share links, resources, and attachments every month.
---
[Educators can] share resources with parents to strengthen learning at home, bridging home and school to propel learning outcomes for kids across America.
Sara Schapiro
Vice President, PBS Education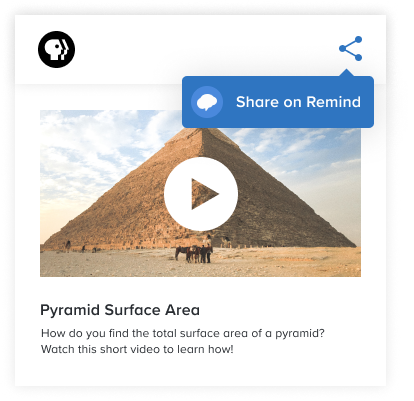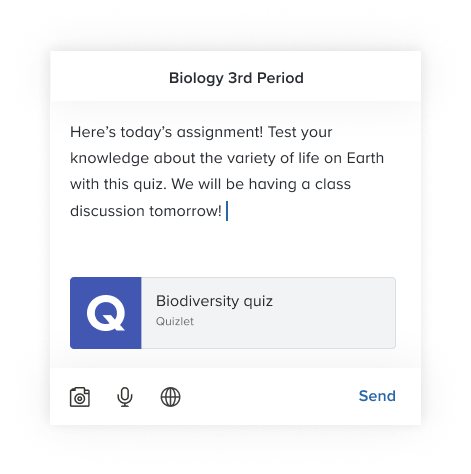 Drive user engagement
Nearly 1 billion messages have been delivered with additional content—to every type of device.
---
We're helping teachers share resources with students more efficiently. That means they can spend more time teaching and less time managing technology.
Andrew Sutherland
Founder and CTO, Quizlet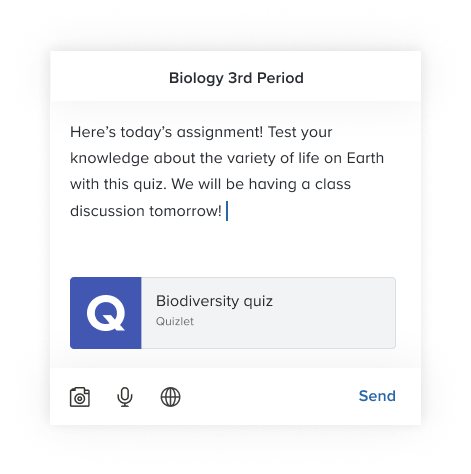 Expand your K-12 footprint
Remind is used in more than 7 out of 10 US public schools and 95% of US public school districts.
---
[Assigning kahoots as homework] couldn't be any easier than sharing it directly with Remind, a platform where millions of educators communicate with students and their parents.
James Micklethwait
VP of Products, Kahoot!
A single message can be the start of something great
Millions of teachers, students, and parents use Remind to share and engage with content. Together, we can make an even bigger impact.
Partner with us